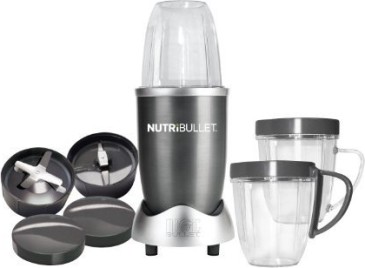 NutriBullet Nutrition Extraction System
OverallScore
19,377
Opinions Analyzed
How it scores
Product Overview
The NutriBullet Nutrition Extraction System is a personal blender that features a 24oz container made of plastic. Measuring 13 inches in height, this blender will fit on the countertop under most cabinets. Users find that the 600w motor is not powerful, even though its wattage is higher than average for personal blenders.
Usability
When it comes to usability, users find it to be very easy to operate. Cleanup will not be time consuming, as user opinions rate it high for easy cleanup. All in all, this blender is a great choice for everyday use.
Quality and Performance
The blender rates low for quality compared to other blenders. However, opinions show that it is durable. Users report that its performance level is around average.
Value
Users feel that this blender isn't at all worth the money and it is rated below average for value.
Frozen Drinks
The NutriBullet Nutrition Extraction System isn't good at crushing ice, and it is not recommended for making margaritas and other frozen drinks.
Smoothies
Reportedly, this blender is not great at blending smoothies and slushies. Users looking to make smoothies every day with this blender may be disappointed with this blender.
Food and Baby Food
Users report that this system is not good at preparing soups and dips. It does a poor job at blending foods to a puree consistency, and users do not recommend preparing baby food in this blender.
Summary
Opinions show that users are very pleased with the blender and would recommend it to others.
Specifications
Power (watts):
600
Jar Capacity (Oz):
24
Jar Material:
Plastic
Speeds:
1
Height (inches):
13
Type:
Personal
Dishwasher Safe:
YES
BPA free:
YES
Pulse Button:
YES